---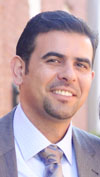 Sam Abukittah M.B.A., M.P.A., has been a tireless advocate for positive change, and natural medicine, for many years. As a natural born leader and marketer, his career has been a successful one.
He began his career in Bethlehem managing Public Relations for The Ammouria Cultural Center, as Educational Research Advisor for Scientific Research in Jerusalem, then as the General Manager of Trade Research International. In 2003, Abukittah assumed the role of General Manager of Bremen Health Clinic and Standard Enzyme Company, a worldwide producer of professional grade vitamin products, and has aided the company to steadily grow to be one of the leading lines in the business. Also, his sales and marketing finesse helped him to become a top sales achiever with Amazon Herb Company for many years running. He simultaneously owns his own enterprise called EuroMed which brings medical technology and products to his homeland and the region.
Possibly his finest accomplishment, however, has been forming the Association of Natural Health, founded in 2008. This has been his brainchild, dream and passion for many years, and as such has a special place in his life and heart. Today Mr. Abukittah is the Founder and President of the AONH. The AONH advocates natural health through community grass roots relationships and public education.
Through effective partnerships with other foundations, corporations and governments on the local, national and international level, Abukittah is trying to help people around the globe to learn how to become healthier, fit, and take control of their health through the valuable information provided.

James J. Hawver is a doctor of natural medicine, entrepreneur and educator with almost 40-years of experience in the natural health care field. His passionate belief in natural health care led him to become a Doctor of Natural Medicine, having graduated from the First National University of Naturopathy in Chattanooga, Tennessee. In his ongoing quest to find a better health assessment alternative than what was available in the traditional medical community, Hawver headed up the development of the CSA System, and later, it's second generation software, CSA-PV, and current generation of software…the Vital® System. In his ongoing efforts to provide effective and high quality health solutions his company, Standard Enzyme Company of North America, LLC,
established in 1985, has become a leading distributor of vitamin and mineral supplements, herbal remedies and homeopathic formulations/combinations to health care professionals. Hawver has facilitated well over a 1000 health care professionals from all over the world to become certified in Electro-Dermal Screening.
His training facility, located in Bremen, Georgia, conducts bi-annual certification courses which cover basic anatomy and physiology, hand and foot acupuncture methodology, homeopathy, homotoxicology, and, of course, EDS Technology. He is also President of the much respected Bremen Health Clinic, established in 1995, which specializes in Electro-Dermal Stress Analysis and Chelation Therapy. Many in the profession look to him for his expertise and direction when it comes to difficult cases or their own health.
James co-founded the Association of Natural Health back in 2008 when he and close friend and collaborator Sam Abukittah saw the desperate need for an association which would help to protect natural health care providers as well as one that would raise the standard of care among them. He currently serves as the AONH Georgia Chapter President.
Dr. Jim Hubbard attended Monroe Community College & Northern Michigan University for his pre-professional education. He attended Lincoln Chiropractic College & graduated from the National College of Chiropractic near Chicago.
For the last 40 years he has specialized in holistic health care. During his first year of practice, he discovered that proper nutrition was critical in good patient response. He has studied with top nutritional giants in the industry. Dr Hubbard has attended thousands of hours of post graduate seminars to stay current with chiropractic techniques along with homeopathic and nutritional strategies.
He has mastered the Pulstar Adjusting System (a computerized adjusting technique that corrects the spine gently without the typical forceful manual manipulation) and has used the Electro Dermal Screening in his practice for close to 25 years (he was part of the mastermind team behind the development of the original CSA technology). Over the last 22 years, he has collaborated with Dr. Hawver on training new EDS technicians. He now enjoys aiding in the education of natural health providers at AONH conferences and workshops and serves as the AONH Michigan Chapter President.

Dr. Bergeron graduated from the LSU School of Medicine in New Orleans in 1992. He specializes in the field of Holistic Medicine which, to him, means that he takes the whole person into consideration; the physical, environmental, spiritual, nutritional, emotional, social, and other factors that may be contributing to the patient's condition. By taking all of these factors into account, Dr. Bergeron can help patients achieve an optimal quality of life. He practices in his own offices in Roswell, Georgia and has served on the Board of the Association of Natural Health since its inception.
Rashid A. Buttar DO, FAAPM, FACAM, FAAIM, is a graduate of the University of Osteopathic Medicine and Health Sciences, College of Medicine and Surgery. He trained in General Surgery and Emergency Medicine and served as Brigade Surgeon and Director of Emergency Medicine while serving in the U.S. Army. Dr. Buttar is board certified in Clinical Metal Toxicology, Preventive Medicine, is board eligible in Emergency Medicine and has achieved fellowship status in three separate medical societies. He is the medical director for Advanced Concepts in Medicine, The Center for Advanced Medicine and Clinical Research™ in Charlotte, NC, a clinic specializing in addressing the needs of patients with cancer and heart disease refractory to conventional medical treatments. He also serves as Director of Clinical Research and Development for V-SAB Medical Labs where he is extensively involved in polypeptide research and development of innovative drug delivery mechanisms.
Dr. Buttar has lectured world-wide to physicians, been featured on national and international news media including TV, radio and newspaper and has testified in front of the North Carolina State Congress as well as the US Congressional Sub-Committee on Human Rights and Wellness at the federal level.
He continues to serve as faculty to teach conventional medical courses such as Advanced Trauma Life Support, PALS and ACLS. Dr. Buttar is on staff as Nutrition Scientist at North Carolina State University in the division of Food Sciences and has been ranked as one of the "Top 50 Doctors in the US" since 2003 by Phillips Publishing and the world famous cardiologist, Dr. Stephen Sinatra. In addition to many other accomplishments, too many to list in this brief bio, he has supported the Association of Natural Health since its inception in 2008 as a Board Member, and frequently aids the organization with his pro-bono educational assistance.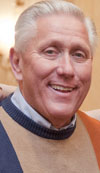 Dr. Harold Joseph Holliday is a Surgeon (specializing in vascular surgery) in Athens, Tennessee. In 1973 he graduated from the University Of Tennessee Science Center College Of Medicine in Memphis. He has 37 years of experience in his field and has been integrating complementary care into his practice for roughly 15 years.
He firmly believes in thinking outside the box and getting to the root of health care issues instead of throwing surgery or pharmaceuticals at a problem right off the bat. Doc Holliday, as his patients affectionately refer to him, joined the Board of the AONH in November of 2014.